It's currently 4:30pm in London and I just stumbled out of bed an hour ago.  I ate breakfast at a subway next door to my hotel while I watched a homeless man pan-handling for change with his dog outside a betting
shop.  I'd imagine this is a very effective pan-handling location as gamblers collecting winning bets might feel obligated to share their good fortune.
I've been in London for slightly over two weeks now, I came to play the WPT, RaketheRake, WSOP and WSOP events that are taking place in London this month.  I decided to come when a friend of mind who was looking for a backer sent me a list of the tournaments he wanted to play in September, and I realized there were over $150,000 worth of No Limit events in London in September.  So instead of backing him, I decided to back myself and booked myself a ticket across the pond.

So far tournaments haven't been that great as I failed to cash in the WPT High-Roller, WPT Main event and RaketheRake.com's Englishpokeropen which comes out to around 25,000GBP down the drain.  Luckily, I won
about that much in cash games so I'm about even on my live play for the trip.  This tends to be the story of my life – if I never played any MTTs I'd probaly be around 500k richer!
I did slightly better in The World Poker Open – which is an invite only televised poker tournament.  The format of the tournament if a double shoot-out and I was fortunate enough to win my first table.  You can see my post-victory interveiw here: http://www.youtube.com/watch?v=Mx2_x5klK9Qhe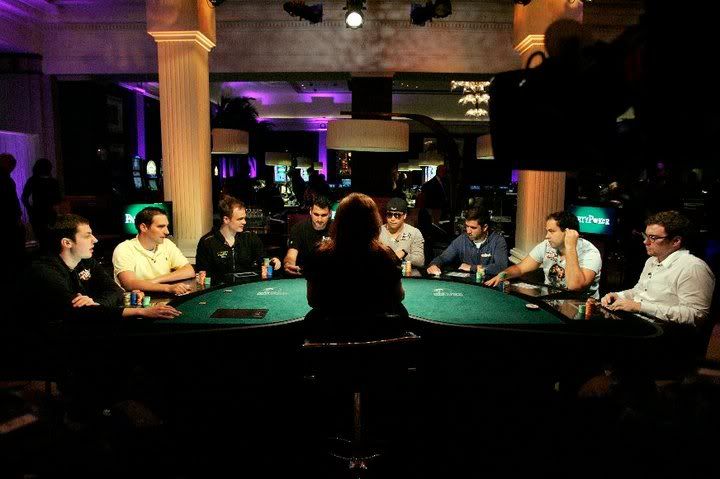 I had a bad-cold and to function I had a few whiskies while playing -
which led me to talk a little bit of trash while running over my table.  Should make for some good TV
In the finals I went out relatively early-on when I got the sickest cooler of my life.  I had 99 on a QQ9 Flop and all the money ended up going end on the river on a final board of QQ959.  Quad 9s vs Quad
Queens!  The sick thing is that the same day someone hit the badbeat jackpot for $700,000 the same day with quad 9s vs quad queens on UB (Probaly one of the owners given how the site does business), and I didn't get awarded anything for my troubles. To be honest I'd rather go out this way than losing a race – at least this way it will make for some entertaining TV!
While here I've also been playing quite a bit online and the results have gone much better than live, even though I'm running quite bad in all-in pots.  The PLO games have been good and I've been getting a lot of action.  Note though that during this same time frame I'm probably also down 20-30k in stud games, which Hold Em Manager doesn't track.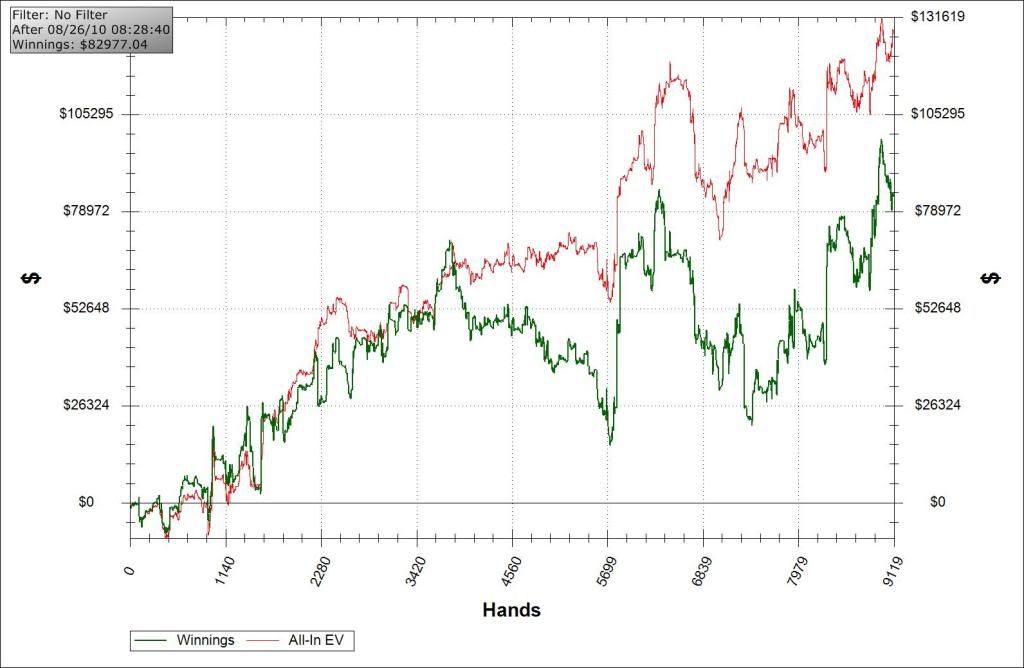 Beside the massive amount of poker I've been playing I've also been doing some promotional events for victorypoker.net and partying with the crew.  To celebrate VictoryPoker.com move to the cake network and Dan Fleyshman's birthday.  Phil Ivey, Holyfield, Craig Clemens and about 500 models all made an apperance.  Was wild to say the least. Video Below:
http://calvinayre.com/2010/09/03/poker/victory-poker-announces-their-move-to-cake-poker-video/
After the party a big group of us headed to a nightclub.  Upon leaving the taxi an un-named person bumped me, and my iphone feel into the sewer.
Than that same person *cough* Sara Underwood *cough* tackled me through unlocked glass doors into a empty cafe right in front of the nightclub.  This led the bouncers to unfairly believe that we were "trouble makers" and we were denied entry into the club.  Anyway… enough stories, I need to get to the gym.
But before I go I've recently signed a new deal with a new site my
friend started www.Sitngo.com.  This is a new poker sit & go site that
my friend is starting, it should have sit & go strategy  and tools
to help players win at online sit & go's.  I started off playing
online poker playing Sit & Go's (at $5) buy-ins and after playing
ten's of thousands worked my way up to the $500 buy-in Sit & Go's.
After 8 tabling these for a few months I had more than a significant
bankroll to start playing cash-games along with the poker
skills and discipline I needed to succeed at cash games (which are more
complex).  On this site I'm hoping to help novice players develop the
skills they need to build a bankroll and make a consistent winning
playing Sit & Gos.  Look for a lot of content going up from me there
over the next month or two!
To keep up with what I've been up to, be sure to follow me on twitter
@Andrew_Robl.  I update my twitter much more than I update my blog!